Dutch Gin (Jenever) Bottle
Background
This bottle, dating from around 1800, is only one of numerous 19th century Dutch gin bottles. Beginning during the 18th century, Dutch gin was used as a trade good, and transported in cheap glass bottles 1.  This bottle's tell-tale tapered rectangular shape identifies it as a 'case' bottle; such bottles evolved from straight sided case bottles, and were stored and exported throughout the world in 'cases' or 'cellars,' which typically held between four and fifteen bottles and were packed securely with straw or other plant husks.2 This bottle was produced by the company van Hoytema & Co., a distillery that produced its own bottles between 1861 and 1928, and operated under the producer A. I. Hoytema. 3.  According to the donor, this specific bottle was found in Nigeria, though it was produced in Culemborg, Netherlands.
Dutch gin bottles such as this one were produced en mass on a fast and large scale; mass production would have required a fast and large scale creation process in which certain details and imperfections (those that did not affect functionality) were less important.  The tapered shape in case bottles evolved from the straight sided case bottle around 1750-1770, due to the its ability to prevent bottles from sticking in cases, thus making it more efficient. 4  Their square shape also made case bottles ideal for transport, as a shipping company could pack multiple bottles in a single case, and use up as much available space as possible.  Conversely, round bottles would leave empty space in the case, due to their inability to lie flush with one another. 
Most case bottles were made through a blown glass technique, with a majority being created from 'black glass' or verre noir, giving them the characteristic olive-green color seen in this bottle.  Through comparative analysis of other black glass case bottles produced during the 19th century, it can be deduced that this bottle was likely produced through a blown glass technique known as dip mold.  A dip mold is a relatively simple process that involves the use of a mold which is open at top.  The mold allowed for consistency and speed in production and could be created in multiple shapes including the tapered rectangle seen in this bottle. Using the mold, the glassblower could then use a blowpipe to mouth-blow the glass in the mold.5 The process by which 'black glass' is made, may also result in amber or brown colored glass due to variations in the coal firing technology used, or impurities in glass ingredients,6 which is important for understanding the wider realm of black glass, and the limitations involved in making black glass.  As stated above, this bottle was produced in Culemborg, an interesting production site, since the majority of glasshouses producing for the Dutch market were located in modern day Belgium, with over 200 glasshouses, while only about 14 glasshouses were located in the modern day Netherlands, where Culemborg is located.7 Mass production was emerging on a global scale during the 19th century, and grew and developed into the early modern era.  Like this Dutch bottle, the Boontonware Cup was also created through mass production.
Dutch gin, textiles, and both worked and unworked copper and iron, were the most popular European goods sold to coastal traders in Africa during the transatlantic slave trade, and in return, Europeans brought home ivory, textiles, spices, and gum.10  The transatlantic slave trade began in the 16th century and spanned until the 19th century, though the Dutch were not initially involved until the 17th century.11 The Dutch shipped slaves from Africa, primarily operating along the Gold Coast (modern day Ghana), to Dutch colonies in North American, and to Brazil (a Portuguese colony), eventually dominating trade with the Spanish colonies in the New World.12 Liquor was a highly important aspect of this complex trade network.  A vast amount of European liquor was imported into Africa. Rum initially dominated, but gin gained prominence during the second half of the 19th century. The extent of European alcohol importation to Africa was so pervasive that during the first decade of the 20th century alcoholic imports of primarily Dutch gin reached 3 million gallons annually,13 which touts the necessity for rapidly and vastly produced case bottles.  While trade relations differ between the Mediterranean world of the "Mastos", the Argentinian mate gourd, and the 1950s America of the "Boontonware" teacup, each vessel facilitated trade between.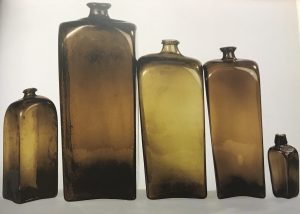 Alcohol was in high demand in West Africa for the trade of other goods.  This is important because European alcohol was critically tied to the transatlantic slave trade through its permeation into local African culture. Liquor was required for multiple rituals in West Africa, such as marriages, burials, and initiations, or as gift items.15 Local alcohol such as palm wine had been used, but when European alcohol was introduced into the local ritual culture, it became popular in due to its comparative strength.16 This infiltration of foreign alcohol into local culture allowed transatlantic trade to prosper, through fostering relationships between the indigenous people and the European foreigners, as well as making imported alcohol a necessity for local rituals.
From its inception, colonialism functioned as a gateway for the transformation of ritual and social alcohol use in West Africa.  For one, social sharing of alcohol between the indigenous population and Europeans was a way of fostering social and economic ties between the two groups.  In a practice called dassie, alcohol was given to locals by the Europeans both for work, sex, or to strengthen existing relationships.17 More importantly, European alcohol like gin, had gradually infiltrated the longstanding historical uses of alcohol in West Africa so that this alcohol became necessity.  In pre-colonial times, corn and palm wine were crucial access points of socialization; people gathered to drink after a long day and shared news, and it was also used to help facilitate communal labor and initiation rites.18 Though they did not displace traditional alcohol completely, European rum and gin gradually invaded these longstanding practices. They also altered them; palm wine had long been distributed to signify status, yet now European alcohol increased alcohol's prestige value and women and younger men were excluded to a greater extent.19
At the most basic level, European alcohol was demanded to such an extent in West Africa, that by the end of the 18th century its appeal on the market was inferior only to textiles.20 A deeper investigation shows that this demand had morphed from consumer interest to a key component in the way the transatlantic slave trade functioned.  As Chima J. Korieh points out, the facilitation of trade in West Africa by Europeans on the initial model of "alcohol for slaves," entrenched the necessity for European alcohol as a trade good, even after the slave trade ended. Despite high consumer demand, Europeans in the 19th century simultaneously harbored a desire to facilitate trade with Africa and increase profits in liquor sales, and conversely, anxieties over how strong liquor might affect the native population, through instigating laziness, drunkenness, or uprisings.  These competing interests propagated discriminatory laws and regulations intended to uphold the political and economic interests of the European colonizers.21  
While alcohol was used to cement relationships between local people and Europeans, community building in the Europeans' minds, did not outweigh the economic advantage of the enormous colonial revenue gained by selling alcohol to West Africans, primarily through taxes.  Thus, locals began to find a way to distill and supply their own communities with gin and other alcohol, known as 'illicit' alcohol or ogogoro.22 By the 1930s, Europeans were so concerned about their economic interests, that prohibitions were created against distillation and consumption of local liquor.  Additionally, the language used in the attempt to control local liquor production was all blanketed under the fear-mongering pretense that locally distilled liquor was bad for one's health and could cause blindness or madness.23
Decades after its initial introduction into West Africa, debates over how colonial rulers should 'handle' the local population in regards to alcohol were still permeating.  Europeans sought to protect their economic interests, temperance movements emerged as a method of social control, and above all, they questioned how best to 'civilize' the African population-through continuing to foster the alcohol trade, or 'protecting' the locals from the harmful effects of alcohol.24 Nevertheless, foreign alcohol had already become a part of daily life in West Africa.  Its effects were becoming entrenched in local culture, including how locals interacted socially with one another, and were drastically altering the course of economic and social development in West Africa.  So while they did eventually serve a community based function, European case bottles played into a much larger social and economic lexicon whose interest was centered on a colonialist enterprise. They are representative today, of social drinking through community, and more importantly, of a systematic network of colonial expansion where alcohol was a crucial pillar of its stability.  For more information about a drinking vessel with colonialist history, check out the mate gourd.
Jordane Birkett (BGC 2020)